*Off Road Event: 09 -- 11 October 2009.*
For more details and booking please contact to:
Land Rover Club Poland
Joanna Zbrog
e-mail: lrcpl@onet.pl
homepage: www.njz.pl
XXVIII Pomerania 28th edition of 'Pomerania' -- Off-Road Orienteering Adventures.
*Time of the event : 09 -- 11 October 2009 *
*Area of the event: *North-Western Poland / in Drawsko Pomorskie area /
*The base of the event: *will shown later
*Registration of participants* on 08.10.2009 between 4.00 - 12.00 p.m.,
and 09.10 from 6.00 to 9.00 a.m.
*Beginning* / start to the route / - 01.05.2009: from 6.30 am to 7.30 am
-- group A1
from 7.00am to 9.00 am -- group T
from 7.30am to 8.30am -- group A2
*The end of the event and closing ceremony* -- 11.10.2009. approx. 11.00
am. in Pomerania base.
*Starting groups: *
*1.* *T group* -- touristic group for all factory vehicles with original
body /acceptable of cutting mudguards and missing original bumpers /
equipped with wheels in size to 32 inches inclusive.
Requirement 32 inches doesn't concern: Land Rover 130, Land Rover 101,
Volvo, Pinzgauer and other with wheel size more than 32 inches as a
factory dimension
*2*. *A1 group: *all kind of vehicles with factory body but on wheels
size more than 32 inches and all others vehicles rebuilt on wheels size
to 32 inches inclusive. **
*3. A2 group: *Any rebuilt vehicles, non - factory body, non-factory
chassis, tyres above 32 in (except for bigger by factory default, e.g.:
Volvo, LR 110, etc.). vehicles such as Tomcat, Scorpion, Dakar, etc.
In case of any dispute the organiser's decision is final.
*Classification is organised separately for A and T group. *
* Short description of XXVIII Pomerania*:
As it was in case of the previous edition, XXVII IPomerania is going to
be a simulation of an expedition. That means, the whole route has to be
covered continuously with nights spent on the way.
The competitors drive according to road book, occasionally a map, and
indicated routes. On the route you will have to tackle a range of:
*ST *_special tasks_ - (e.g. water tasks, applying rope techniques,
bridge, swamp crossing, etc.) that will
be assessed by a referee
PK, SPK _check points_ -- code numbers hidden on the route that you have
to spot
* OS* _special sections_ -- voluntary, for more experienced
participants, assessed by a referee; on some of
* *them your time will be measured.
The route in total is ca 300 km long. The time and the distance results
of the drive does not have a significant influence on classification
*It is how many points you collect, not how fast you go that counts!*
*Minimal off road equipment:*
*For all*: off road tires, towline, shackles, shovel.
*A1 and A2 group: *besides the above the recommended equipment consists
of: Hi Lift jack, sand plates / ladders and *obligatorily** a winch*!
We recommend you have your own camping, climbing and water equipment --
it will earn special bonus for your team.
*All vehicles must be registered and insured.*
* Accommodation: *camping site / own camp equipment is necessary / or on
request in the guest house or cabin.
*Food:* self catering.
*Price of participation*: group T: 1200 PLN per car / crew max. 3 persons
group A1: 1350 PLN per car/ crew max 3 persons
group A2: 1500 PLN per car / crew max 3 persons
Payment in PLN or equivalent in Euro.
Our fee does not include your accommodation in the guests house, cabin
and hotel, meals and vehicle costs.
*Booking is necessary.* **
For more details and booking please contact:
Joanna Zbróg
Land Rover Club Poland
e-mail: lrcpl@onet.pl <mailto:lrcpl@onet.pl>
Our events are organized for all types of 4x4 vehicles.
All routes we use are legal, and researched by us.
Participants are entirely responsible for their vehicles and personal
effects whilst on the event.
Organizer will be exempt from all liability in respect of loss, damage,
sickness, injury or death howsoever caused occurring to persons or
vehicles whilst on the event.
*As a guide, these are the average costs of hotels, meals and fuel:*
Hotel : from 70PLN to 280 PLN p.p.d
Meals: breakfast - 40 PLN, lunch - 40 PLN, dinner - 100 PLN
Fuel: un lead petrol -- 4.50PLN/1litre, diesel -- 4.00PLN/1litre, LPG --
2.0 PLN/1litre
Kind Regards
Joanna Zbrog
LRC PL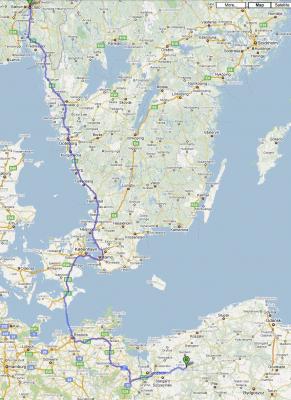 Om man velger å hjulkjøre hele veien er det |<-----såååå----->| langt
Edited by bebe, 11 June 2009 - 10:08.